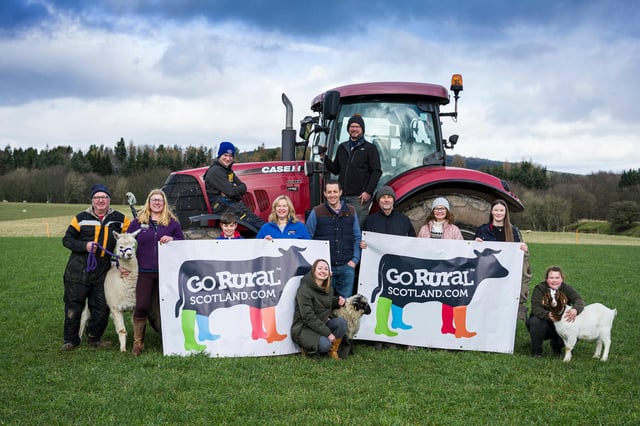 Go Rural Launch
The 'Go Rural' campaign will encourage urban dwellers to venture out into the countryside, buy food and drink directly from the farmer, visit a farm for the day or book an overnight break or holiday. And when the opening ceremony kicks off in Dundee this weekend, organizers plan to send a message to 20 major towns and cities throughout the spring.
Sector Lead, Caroline Miller, said, "In addition to informing people about what is on their doorstep, focus on creating knowledge and awareness about rural regulations and how to keep humans and animals safe in rural areas." Will be given. "
The social media campaign is being carried out through Scottish Agri-Tourism, in collaboration with other farming, rural and tourism organizations through the 'Go Rural' consumer portal.
"A series of podcasts and videos will capture the stories of various Scottish farmers, and social media influencers and journalists will also visit different locations," Miller said.
And it encouraged Scottish agri-tourism members to host events on the farm during the Easter break – many already planning spring farm tours to complement the popular online 'Lambathon live' in April. Sorting
"83% of Scotland's population lives in urban areas, 2% of Scotland's land. And looking forward to the opportunity to be able to talk on the farm about Scottish food production, Miller said, taking care of the environment and the landscape.
He said that visiting the farm and providing access to green space is considered to be very beneficial for mental and physical fitness. He added that his organization's responsibility in attracting people to the countryside was to focus on the importance of leaving footprints and working responsibly to protect farm animals, wildlife and people. Explain
"Discussing responsible tourism will be a key focus of the campaign, which will be provided in a way that informs and builds relationships."
The campaign has also been supported by a number of MPs and MSPs and local councilors who are keen to build a relationship between urban and rural Scotland.
Dundee West MP Chris Law said: "We in Scotland are fortunate to have the world's latest and finest locally prepared food on our doorstep."
And Angus MP, Dave Duggan, added: "GoRovel is a great initiative by our farming sector in Scotland and shows that farmers are constantly diversifying into wider markets. With GoRovel , We have a wonderful opportunity to spend time on the farm to get close to Scotland's wonderful food production and magicians.