Speaking to Kyiv, Ms Truss said Britain was "standing shoulder to shoulder" with Ukraine over Russia's continued military preparations.
In a keynote speech, he said Moscow still had time to "step back from the brink" and pursue diplomacy.
"We are ready to talk," he said.
"But we are very clear – if they decide to pursue aggression, it will have serious consequences, with huge economic costs for Russia."
At the same time, he said, "even if Moscow withdraws its forces from the border with Ukraine, the problem will not end."
He said it represented a "litmus test" for the West and that NATO allies now needed to invest in defense and deterrence and move forward to modernize the alliance.
"The free world needs to draw a line under a decade's flow," he said.
"If we step back, it will encourage thugs to fight against sovereignty and the right to self-determination."
"It's a litmus test for the West.
"We must now confront and thwart Russian aggression, because if we do not do so, it will encourage aggressors, dictators and dictators everywhere, not just the Kremlin."
"What matters here in Eastern Europe is what matters to the world and what matters to the future.
"We have a responsibility to make sure that the next 10 years are better than the last."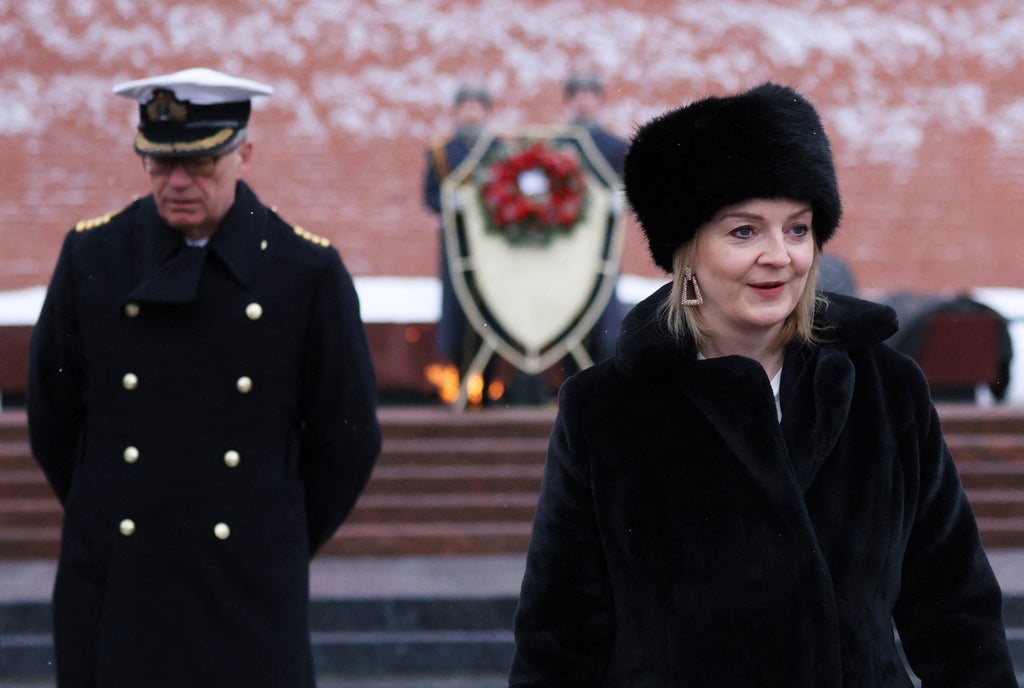 Ms Truss said the "spectacle of Russian aggression" had long hung over Eastern Europe, threatening security and stability for the wider world.
Although Russia did not pose a threat to NATO or Ukraine, it said "meeting the legitimate Russian concerns will not eliminate its threats. Instead, Russia will be encouraged."
He said the West needed to publicly confront and challenge the Russian "liars", as the Ukrainian claim of a "dignity revolution" in 2014 was indeed a coup.
"For years now, Russia has been building its capabilities, breaking its promises and examining our weaknesses," he said.
"The West needs to be vigilant. We need to work together to discredit their arguments in public.
"We must use our intelligence strategically to challenge his statement – as we did last month, to install a pro-Russian leader in Kiev and expose his military presence on the border." Revealed the Kremlin's plan. "
Referring to the example of China, Ms. Truss expressed surprise that Beijing has aligned itself with Moscow.
He said that if China wanted to be seen as a "responsible global actor" it should urge the Kremlin to withdraw from the invasion of Ukraine.
"Beijing is stepping up its aggression and rapidly increasing its armed forces.
They are breaking the rule of law to create no-go areas in the South China Sea and are conducting military flights near Taiwan. "
But China is not like Russia. They claim a policy of non-interference.
That is why it is amazing to see Chinese leaders lining up with the Kremlin.
"If China wants to be seen as a responsible global actor, it must do everything possible to ensure that Russia retreats."
"The world is watching to see if their actions contribute to peace and stability or to provoke aggression."
Ms. Truss called on the international community, including Russia and China, to adhere to the principles of arms control, with "concrete steps" to reduce the risk of nuclear war.
At the same time, he said, Western allies must be prepared to accept the economic "pain" of imposing sanctions, including blocking the Nordstream 2 gas pipeline from Russia, for long-term security.
"In a dangerous time, we need to be tough," he said.
"This includes being prepared to accept short-term pain for long-term benefit, whether by imposing strict sanctions or reducing strategic dependence by opposing Nord Stream 2."
"In this way, we will ensure that the next ten years are determined by strength and stability, not by risk and flow."
Additional reporting by PA Media