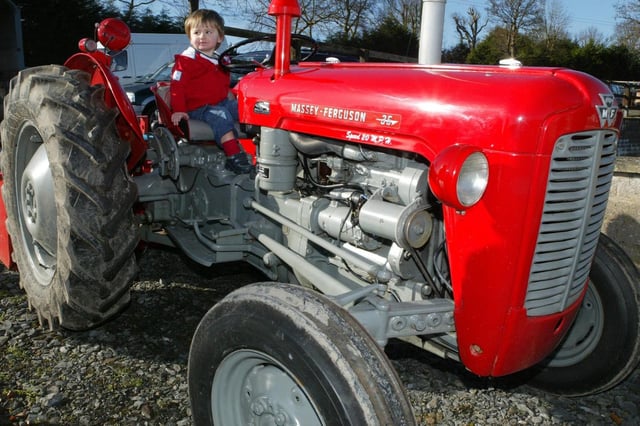 Patrick Leach, a two-year-old from Dromore, at the Glenivey and District Vintage Car Rally in March 2007.
Fast trade for the Whiteheads began with the race champion and reserve champion making 220 guineas.
The breeds of these two "great bulls" were dominated by blood, which was shown by Monghan to Major Maiden of Clooney.
But the first prize of the selection, Hereford Bell, Cranston Signal, exhibited by Colkiren, Dungan, to Tyrone's Jarvis Williamson, won the biggest selling prize – 230 guineas.
Richard Bingham shows off his Anglia 105 convertible to James McGee in a Glenavy and District vintage car at a rally in March 2007. Photo: Colm O'Reilly / Ulster Star archives
Commonly known as Farming Life, Herefords produced some of the "best winners" who attracted higher prices to increase their popularity among Northern Ireland farmers.
Major Maiden had her first opportunity to see the Herford Bulls at the Balmoral Spring Show and Cell and was delighted with her accomplishments.
A Farming Life correspondent at the show and sale commented: "He tells me he has six more bulls for sale in Dublin next week and he considers two of them even better than his Balmoral entries."
Searle Gardner with his Ford 4000 tractor at the Glenway and District Vintage Car Rally in March 2007. Photo: Colm O'Reilly / Ulster Star Archives
With very few Herford oxen being selected to meet demand in Northern Ireland, Major Maiden's success could "encourage more Eire breeds to come to the North", Farming Life noted.
The highest price – 210 guineas – was "taken" by 12-month-old Aberdeen Angus Heffer before the Herefords came into the ring, which was shown down by JH and WH McConnell of Rathfreyland, Down. Was, which I was the prominent winner. Bell classes
Strong Aberdeen Angus Crossing bulls had a good trade, with two sales of 190 guineas each. The champion of Mr. Albert Eaton's race was withdrawn for 170 guineas, while Mr. J. W. Leach got 170 guineas for his reserve champion.
Mr Veitch of Lisbellaw, Co Fermanagh, one of the most successful breeders in Ulster, known as Farming Life, had a great bull for sale in Dublin, "where he won the race for the championship. Will provide a strong challenge. "
Mark Ross, Assistant Secretary, Glenway and District Vintage Car Committee, Walter Jess, committee member and chairman of the Glenway and District Vintage Car Committee, and Alan Ross with Ferguson T20 at the March 2007 rally. Photo: Colm O'Reilly / Ulster Star Archives
Mr. Samuel Williams, the famous Colcover, was impressed with the "quality of the tops" by Cork, the breeder who decided Aberdeen Angus. He said he had seen a big improvement since he last made the decision a few years ago and was "missing the surprise" that there was no bigger tail end.
There was a good demand for bulls of all sizes and females, but the "simple" Aberdeen Angus traded slowly. Farming Life notes: "There are very few good bulls and very few inferior varieties."
Dairy Short Horns has produced some great winners for the champion with a high price of 200 guineas. It was noted: "They did not meet the high standards of 1961 autumn sales."
Two top Ulster Bills will be exported.
Four-year-old Thomas McRae poses on a Macy's Ferguson tractor at the Glenavie Vintage Club Rally in March 2007. Photo: Colm O'Reilly / Ulster Star Archives
Farming Life reported that two Alastair Bells – an Aberdeen Angus and a Derry Shorthorn – were to be exported to Argentina.
They were bought by Mr. E. M. Alexander, a "famous Scots exporter" who had an eye on other animals in Northern Ireland. Mr. Alexander, from Glasgow for Balmoral Sales, told Farming Life that he had bought an Aberdeen Angus Bell from Mr. R. Sproul of Omag. Shorthorn's purchase was from Mr. Duncan Stewart's flock in Tymprag, Stewartstown, Tyrone. Mr Alexander told Farming Life: "We are willing to pay a good price for a good bull, but we are not interested in a bad bull at any cost. . "